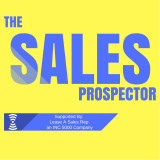 In this episode, we interview Steve Benson, CEO of Badger Maps, a SaaS mapping solution for outside sales rep to map their routes for customer and prospect visits.  Badger Maps helps outside sales reps be more productive and helps them get more meetings per mile using their solution. Easily integrates with your CRM.     https://www.badgermapping.com/
We covered:
Is outside sales dead?
1. How to use technology and Badger software to focus on your best customers
2. How to get more face to face meetings with less miles on the road
3. Integration of the Badger software with your CRM for outside sales visits
4. Pulling reports on sales rep visits, locations and who was visited during the day, week, or month
If you enjoyed this podcast, please rate, review, subscribe and share. 
Want to discuss how we can help you? Reach out here. Contact Us!  
Want to see interviews with thought leaders and get more insights and tips? Go here Videos 
Follow us on LinkedIn
Follow us on Facebook 
Follow us on Twitter
Follow us on Instagram