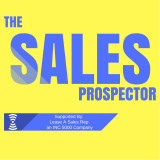 In this episode, we interview Rich Prest-Senior Executive Vice President of Corporate Strategy at AssistRx. https://www.assistrx.com/
AssistRx provides a tech platform called iAssist that helps streamline the process of getting specialty meds to chronically  ill patients from a few months to as little as a few weeks or days.
The specialty medicine approval process can be cumbersome, intimidating and complex. While being very costly for the patient.  iAssist helps physicians and patients streamline that process while saving money for the patient and time for the provider.
We cover:
1. How iAssist helps medical providers
2. The cumbersome process for approvals of specialty meds
3. The cost of some specialty meds
4. Specialty pharmacies
5. The cost of healthcare delivery and how pharmaceuticals account for a small portion of overall costs
If you enjoyed this podcast, please rate, review, subscribe and share. 
Want to discuss how we can help you? Reach out here. Contact Us!  
Want to see interviews with thought leaders and get more insights and tips? Go here Videos 
Follow us on LinkedIn
Follow us on Facebook 
Follow us on Twitter
Follow us on Instagram