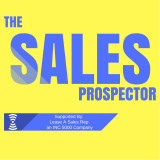 In this episode of the Sales Prospector show, we interview Paul Price, CEO of Argyle Forum https://www.argyleforum.com/ Argyle Forum is an event management business that helps their clients get more leads, sales and solidify their branding. They work with customers who want to present their products and services to C-Level audiences and other decision makers via in person events and webinars. Argyle works in the tech, finance, human resources and general business (marketing) industries creating events that fill the room with your prospects.
We discuss:
Live events
Media properties they own (magazine, websites)
Their 1mil + data set
Their ideal clients
Entry level cost to work with them
If you enjoyed this podcast, please rate, review, subscribe and share. 
Want to discuss how we can help you? Reach out here. Contact Us!  
Want to see interviews with thought leaders and get more insights and tips? Go here Videos 
Follow us on LinkedIn
Follow us on Facebook 
Follow us on Twitter
Follow us on Instagram