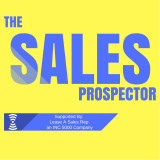 In this episode of the Sales Prospector show, we interview Alain (AL) Briancon, CTO of Cerebri AI https://www.cerebriai.com/ .This company provides a Saas model customer engagement platform to enterprise and middle market clients, allowing them to see which customers are prime for new sales, and upsell/cross selling or who they may lose as a customer (churn).  Using A.I and their customer data to do this is cutting edge. 
We discuss a few industries and some examples on how the tech works, and how it helps businesses and sales reps be more efficient & prepared when talking with customers. 
If you enjoyed this podcast, please rate, review, subscribe and share. 
Want to discuss how we can help you? Reach out here. Contact Us!  
Want to see interviews with thought leaders and get more insights and tips? Go here Videos 
Follow us on LinkedIn
Follow us on Facebook 
Follow us on Twitter
Follow us on Instagram