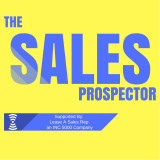 In this episode, we cover how to sell to Chief Information Officers & Chief Technology Officers by chatting with Wendy Pfeiffer-CIO of Nutanix, www.Nutanix.com.
Wendy leads the IT team at Nutanix, a publicly traded company with 7,000 worldwide employees.  They're an IT firm working with enterprise level clients providing hyper converged infrastructure (HCI) in a few verticals. They also support businesses via remote apps, data storage and networking technology.
We cover:
>How to sell to them (CIO's *CTO's)
>How to approach them
>The best way to approach them
>How they make decisions
>What they look for in a vendor
If you enjoyed this podcast, please rate, review, subscribe and share. 
Want to discuss how we can help you? Reach out here. Contact Us!  
Want to see interviews with thought leaders and get more insights and tips? Go here Videos 
Follow us on LinkedIn
Follow us on Facebook 
Follow us on Twitter
Follow us on Instagram