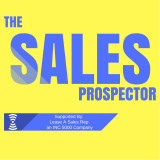 In this episode we interview Sean Eliseev, Senior Partner of Contact Out. www,ContactOut.com They provide a SaaS model platform that can find emails and phone numbers of contacts who are on LinkedIn.
The platform got its start in the hiring space, used by recruiters to find candidate information to offer them jobs. They are now venturing into the B2B space using their database of over 1 billion emails and phone numbers of LinkedIn contacts to help vendors and businesses sell more of their products and services to targeted prospects.
We cover:
Their Google Chrome extension
Ease of use
Pricing
Data available to users
If you enjoyed this podcast, please rate, review, subscribe and share. 
Want to discuss how we can help you? Reach out here. Contact Us!  
Want to see interviews with thought leaders and get more insights and tips? Go here Videos 
Follow us on LinkedIn
Follow us on Facebook 
Follow us on Twitter
Follow us on Instagram